Riverside Truck Brake Service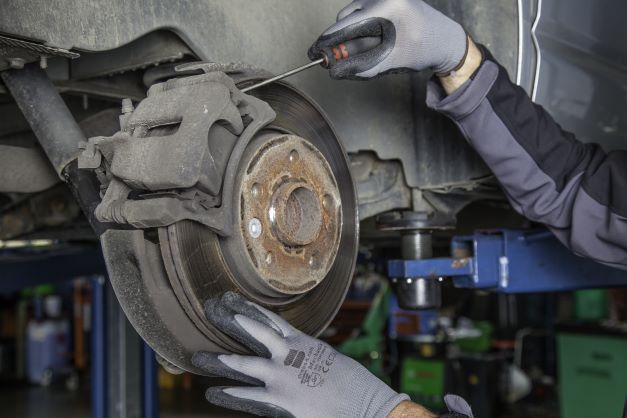 Any truck driver worth their salt knows that brakes are essential to keeping their rig on the road. After all, what good is a truck if it can't stop? Yet despite their importance, brakes are often taken for granted until they fail. When that happens, it's not just the driver who is in danger, but everyone else on the road as well. That's why it's so important to keep your brakes in good working order.
If you're in need of truck brake service in Riverside, there's no better place to go than Riverside Mobile Truck Repair Co. We are experts when it comes to brakes, and we can get your truck back on the road in no time. We understand that time is money, so we'll work quickly and efficiently to get you back on the road as soon as possible. Don't take chances with your brakes-trust the experts at Riverside Mobile Truck Repair Co. to keep you safe on the road. Contact us today at (952) 800-7104 to schedule a brake inspection or repair.
We also offer other mobile truck repair service including trailer repair, truck oil change, truck brake service, commercial truck suspension repair and more. 
Signs That Your Truck Brake Needs Maintenance or Repair
Are your brakes making noise? Grinding, squealing, or squeaking are all signs that your brakes need attention.

Do you feel vibration when you press the brake pedal? This could be a sign of warped rotors.

Is your truck pulling to one side when you brake? This could indicate an issue with the caliper or brake line.

Is your truck taking longer to stop than usual? This is a sign that your brakes are wearing down and need to be replaced.
If you notice any of these issues, don't hesitate to give us a call. We'll inspect your brakes and let you know what needs to be done to get them back in good working order. In most cases, we can perform the repairs right then and there so that you can get back on the road as soon as possible.
Truck Brake Maintenance
There are a few things you can do to extend the life of your brakes and prevent problems down the road. First, make sure you check your brake fluid level regularly and top it off as needed. Second, have your brakes inspected at least once a year by a qualified technician. And finally, be sure to drive cautiously and avoid hard braking whenever possible.
Regular maintenance and inspection can help to prevent problems before they start, and prompt repairs can fix issues before they cause serious damage. So don't wait until your brakes fail before you give them the attention they deserve. Your truck-and everyone else on the road will be glad you did.
Contact Riverside Mobile Truck Repair Co.
If you are looking for expert truck brake service, look no further than Riverside Mobile Truck Repair Co.! We are a trusted and reliable mobile truck repair company that offers comprehensive brake service for commercial trucks of all sizes. Our experienced technicians have the knowledge and expertise to get the job done right, and we always use only the highest quality parts and equipment. Schedule your brake service today – call us at (952) 800-7104!